COMPANY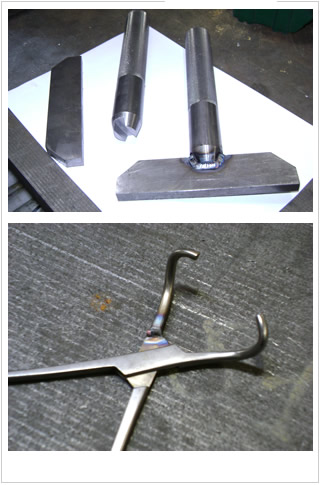 Welding Romeo
is a company dedicated to the
welding
of the
metals
where
joint
and
backfilling
is necessary:
workings in workshop in real time in order to avoid losses of time in travels
workings at home in order not to transport pieces or yards
search of the material and specific method for every situation with feasibility appraisal.
Welding methods:
tig
mig
ossiacetilenico
electrode
plasma.
Welding on typical objects:
laminated and drawn in many materials
mergers/fusion cast iron
mergers/fusion aluminum
mergers/fusion bronze
tanks fuels.
Special on company:
stamps in steel
stamps in aluminum
rimming
special backfilling
back filing on errors of mechanical working or merger/fusion
vintage car and motor
welding circuit-radiators
back filing on trivelle.
Soldered materials:
iron
steel
stainless steel
alloy steels
special steels
aluminum and alloys
cast iron
bronze
titanium
magnesium.
Some products and field:
moulds
food field
pharmacia and hospital field
car and motor field
tools
hard facings and wear and tear.